This Small Article will Tell you Everything about What you gonna get in the Hidden Wiki

The Hidden Wiki is a directory of dark web links that allow you to browse various sites on the dark web. It helps you navigate platforms while maintaining your anonymity. The primary feature of the Hidden Wiki is that it is only available on the dark web.
If you visit dark web links often, you may be wondering about what is present on the Hidden Wiki. Luckily, you don't have to look far for this information. Here is everything you need to know about what you will get on the Hidden Wiki.
Discussion Forums
The Hidden Wiki is great for people who want to speak their minds without worrying about people judging. It is also suitable for those who don't want to face repercussions by the government for a statement on the internet. This is because the directory offers links to various discussion forums.
Some of these will allow you to engage with people with the same interests as you. You can talk about hobbies such as books or seek tech advice from geeks. Dark web links to political discussion forums are also available on the Hidden Wiki.
Of course, you must be extra cautious when discussing sensitive topics on the dark web. The authorities may not be able to track you, but you can get into heated arguments with other people due to opinion differences. You can be safer by knowing what the forum is about before engaging in conversations there.
Websites Without Cookies
A primary feature of normal internet browsing is that every website asks for cookie permissions. You can reject some permissions, but there are some cookies that are required by a website. So you will have to check yes on those boxes to navigate the platform.
The top thing about the Hidden Wiki is that it does not redirect you to dark web links with cookies. This means you don't have to worry about giving random websites different permissions. So your data will be safer when using platforms with no cookies on the dark web.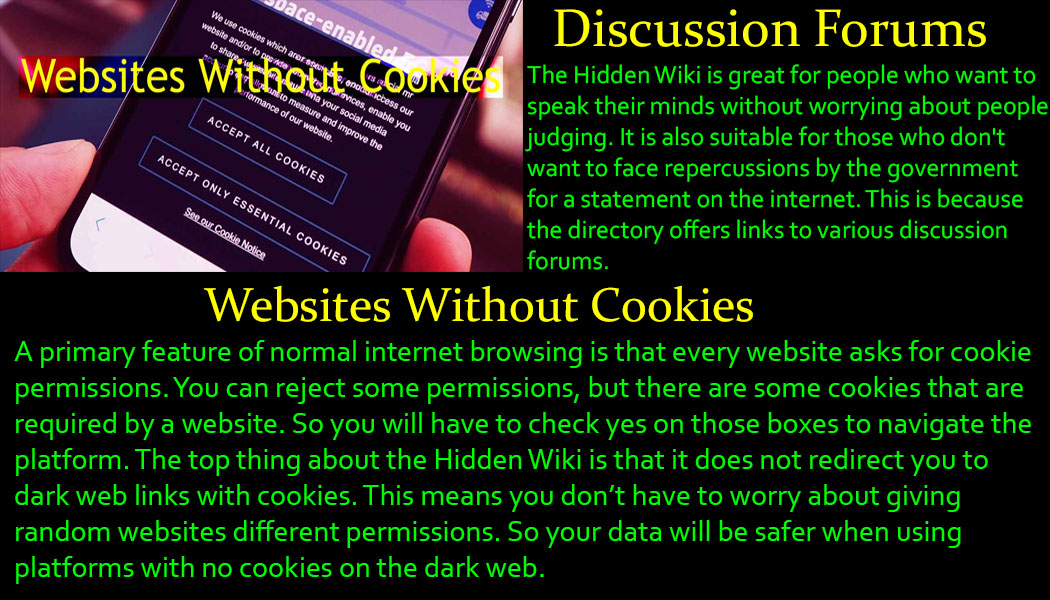 Another great thing about the dark web links on the Hidden Wiki is that they do not contain trackers. You don't have to worry about the authorities knowing that you're using the dark internet. Your internet activity will remain hidden from your other family members and external people.
Multiple Dark Web Links
The primary feature of the Hidden Wiki is that it is a directory for websites on the dark web. This means you can access various dark web links from the platform. Clicking on a specific URL will redirect you to the relevant page so that you can enjoy browsing the information.
An excellent thing about the dark web links on the Hidden Wiki is that they are safe to use. You may worry about landing on a scam platform or an unsafe website on the platform. After all, the dark web offers safety to standard internet users and hackers in the same way.
That is where the Hidden Wiki will help you. It is primarily designed to help new and old dark web user's access safe websites. The platform makes navigating things on the browser easier without worrying about your anonymity, financial safety, and other things.
Here are the types of dark web links you can encounter on the Hidden Wiki:
These links are mainly for those users who are just starting to use the dark web. The list includes URLs of websites you may be looking for on this part of the internet. So the links are based on things new users search for on the dark web.
For instance, you may encounter links to mirror websites of famous streaming services. This will allow you to watch your favorite series without worrying about privacy. You may also come across dark web links that redirect you to websites unavailable in your country.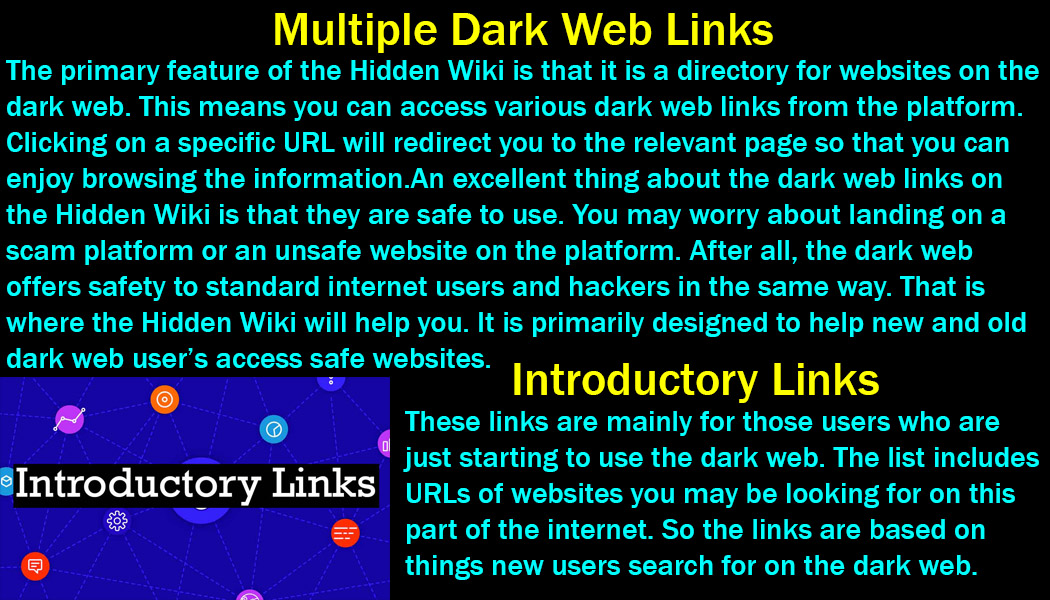 However, you must remember that not all links on the Hidden Wiki are useful. Some may be trash URLs that can waste your time. So if a link is taking too much time to open or shows an error, it is better to avoid it instead of finding solutions.
As the name suggests, these links will primarily direct you to a website offering some type of financial service. You can hire hackers to get someone else's data without putting yourself at risk. Of course, this is not an advisable action because hacking involves violating various rules.
You can also hire someone to create fake documents for you. For instance, you may want a false school result, driving license, or another essential document. The primary purpose of commercial links is to help you enjoy services related to technology and documents.
Another excellent feature of the Hidden Wiki is that it is a very organized directory. The platform is divided into various sections with relevant links under them. The Editor's Picks category on the Hidden Wiki helps access the most useful dark web links on the dark internet.
This section may include dark web links to a shopping site for illegal tech devices. You can also visit shopping platforms for fashion items such as branded bags. So the links under this category will target your primary needs to help you easily get essential things.
The Hidden Wiki does not offer you dark web links only for shopping items. It also offers you access to platforms that will help you browse the dark internet more safely. The dark web allows you to maintain privacy, but you must know specific things to increase your safety.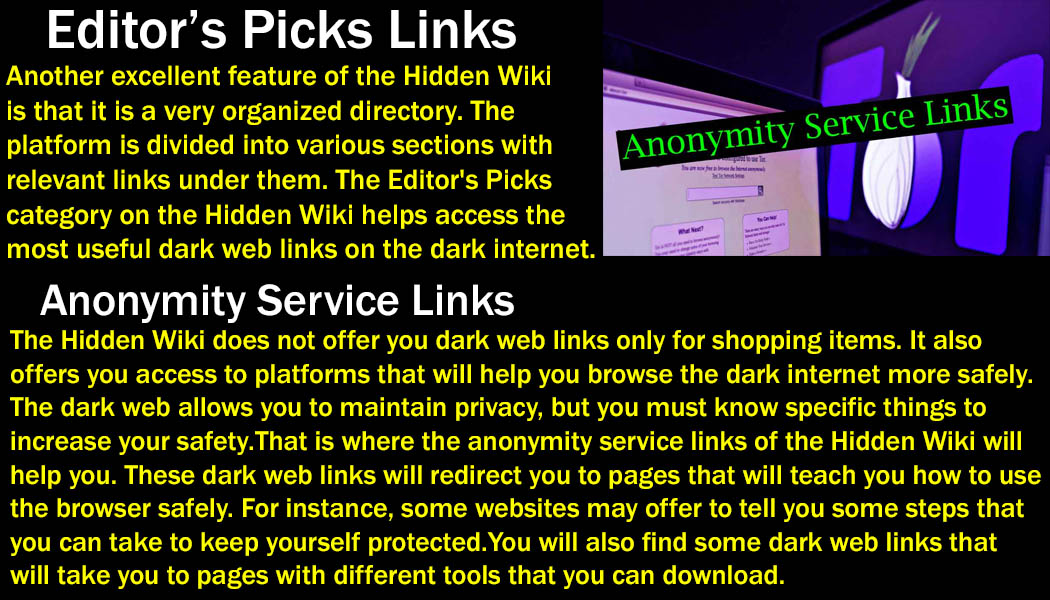 That is where the anonymity service links of the Hidden Wiki will help you. These dark web links will redirect you to pages that will teach you how to use the browser safely. For instance, some websites may offer to tell you some steps that you can take to keep yourself protected.
You will also find some dark web links that will take you to pages with different tools that you can download. These tools can help you improve your browsing experience on the dark web.
Chatting Options
The Hidden Wiki is useful for finding shopping sites on the dark web. However, that is not the only feature of this platform. You can also enjoy chatting options on the directory through links to various messaging apps.
This directory will offer links to various tools you can use for safe messaging. These may include services that allow you to send anonymous emails. The platform can also redirect you to pages with personal chat options.
The best part is that not every chatting platform will require you to make an account. You can maintain anonymity by using a tool that does not ask for personal information. The Hidden Wiki will easily offer you access to such tools because of the organized sectioning of links.
How Can You Use The Hidden Wiki Safely?
The Hidden Wiki is mainly a hub for dark web links to different websites. Many of them are safe, but some may be trash URLs or scam sites. That is why you must take some preventative measures to browse the pages safely.
Here are some things you can do to keep yourself safe on the Hidden Wiki:
Avoid Engaging In Financial Transactions
The Hidden Wiki may direct you to an unsafe shopping platform at times. Using your credit card or other personal payment methods can put you at risk of losing your money. This is why it is better not to engage in financial transactions on such websites.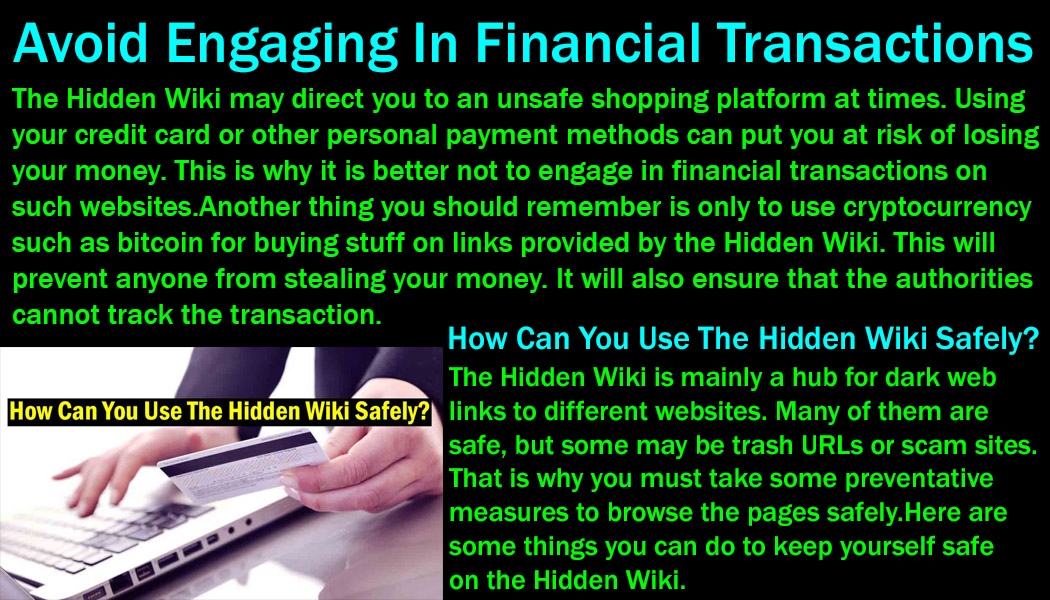 Another thing you should remember is only to use cryptocurrency such as bitcoin for buying stuff on links provided by the Hidden Wiki. This will prevent anyone from stealing your money. It will also ensure that the authorities cannot track the transaction.
Use Tor Browser
Another thing you must remember about the Hidden Wiki is that it is only available on the dark internet. So you must have the Tor browser to access the directory. You may find results about the Hidden Wiki on standard internet browsers.
However, these websites are not official and do not direct you to the actual Hidden Wiki. Your activity will also be tracked on the unofficial sites on the regular browser. So remember to enter the dark web before searching for the Hidden Wiki.
Using a VPN and downloading the Tor browser on your device will allow you to enter the dark internet and access the different dark web links.
Final Words
This is everything you need to know about the Hidden Wiki. The directory contains links to shopping platforms on the dark web. Some will allow you to buy legal items anonymously. Meanwhile, many platforms sell illegal services such as fake documents, stolen branded bags, and much more.
The Hidden Wiki also offers you access to information blogs about using the dark web safely. You can also chat with people anonymously by opening the links from the email and messaging section of the platform.