There is a lot of censorship that takes place on the standard internet as one has to follow the rules and regulations. However, when you access the various dark web links, such as The Hidden Wiki, you will find that there is very little censorship. Because of this, you can find a lot more on this part of the internet.
As a darknet user, you have probably visited The Hidden Wiki, or you know about it. If you are wondering whether you should use this link, you are in the right place. Here is a complete guide to The Hidden Wiki and its benefits.
The Hidden Wiki Explained
There are endless dark web links on the darknet, but The Hidden Wiki is perhaps the most famous one you will find. You can think of this website as a directory and collection of onion websites. Of course, you can only reach it if you are using a Tor Browser.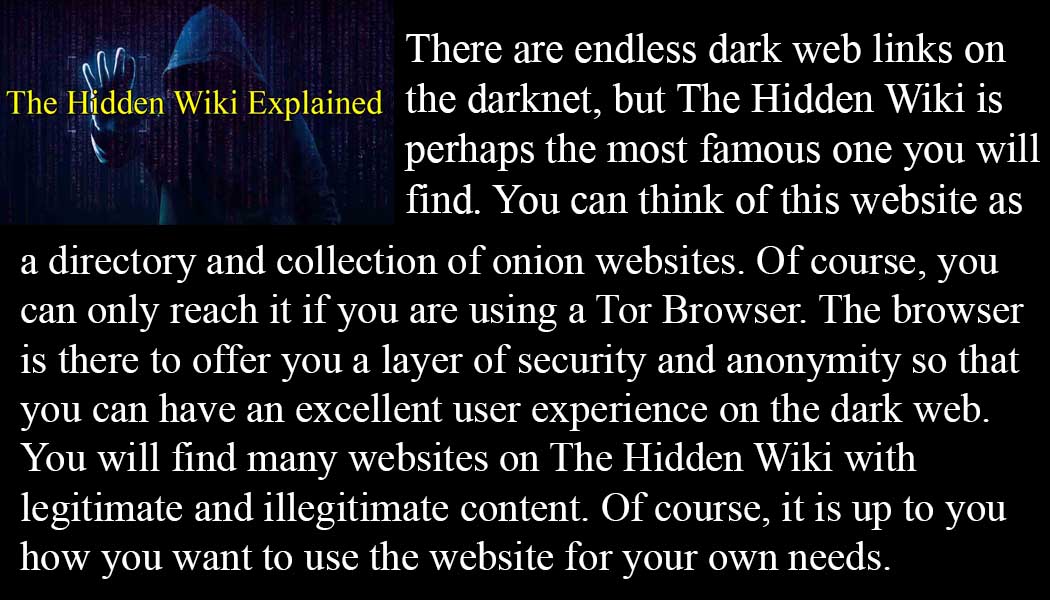 The browser is there to offer you a layer of security and anonymity so that you can have an excellent user experience on the dark web. You will find many websites on The Hidden Wiki with legitimate and illegitimate content. Of course, it is up to you how you want to use the website for your own needs.
Why Hidden Wiki Could be a Good Choice for Darknet Users
Now that you are familiar with The Hidden Wiki, you might be wondering why you should use it. Well, it is not like other dark web links you can use. Here are the top reasons this directory is one of the top choices for darknet users:
Caters to Your Needs
When you enter The Hidden Wiki, you will find that the website is divided into different sections. These include commercials, financials, blogs, essays, and much more. All of these sections will cater to the unique needs that users have.
Beneath these sections, you will find endless dark web links that will allow you to visit different websites and explore the possibilities of the dark web. Most of these links are legitimate, especially the ones that you will find under Editor's Picks. However, you must still be careful and do your research before clicking any link to ensure that it is not fake.
You Will Find Everything
You can think of The Hidden Wiki as a one-stop shop for all the dark web links you will ever need to do anything you like. That is because this platform has no censorship, so you will find anything and everything. Of course, that means you will also find many sites where you can purchase or sell illegal goods and services.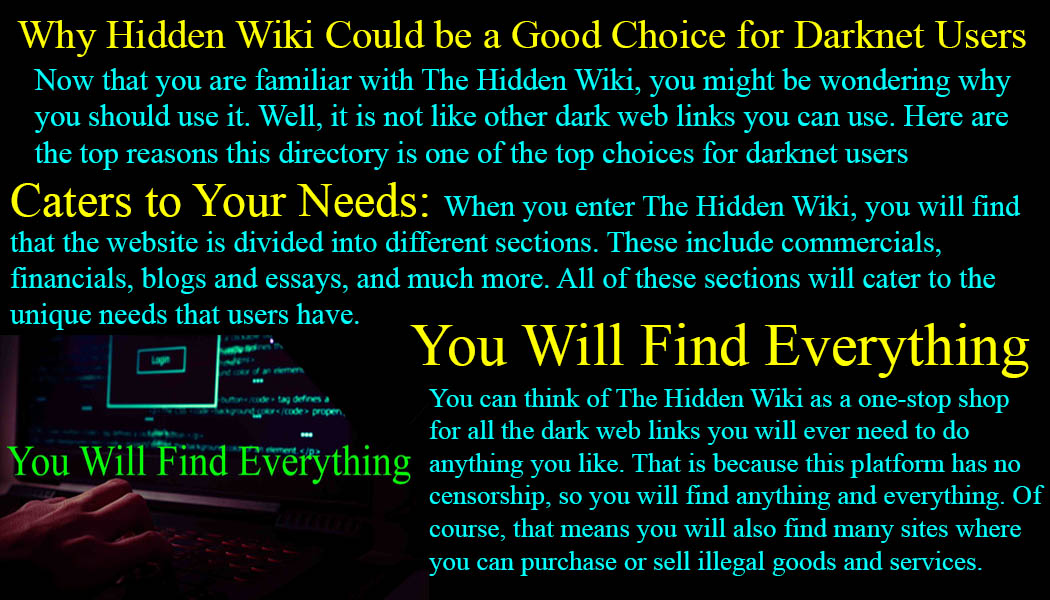 We recommend that you stray away from these sites and don't partake in illegal activities. If you get caught, there will be intense repercussions based on the laws of your country. So, be sure to keep everything legal, even on the dark web.
You Can Submit Anything You Like With Anonymity
You probably already know that you can edit Wikipedia on the standard web without any issues. In the same way, you can also submit anything you want anonymously on the Hidden Wiki. That is why you will find many users contributing some excellent dark web links you can access.
So, if you have something to contribute to the platform, you can do it too. All you have to do is go to the Uploads section, and you can upload what you like. Just make sure that what you are contributing is legitimate so that you can guide other users with ease.
Learn about Privacy, Security, and Anonymity
One of the top reasons The Hidden Wiki is good for a darknet user is because it will give you a chance to learn more about anonymity, privacy, and security on the dark web. There is an entire section dedicated to this on the platform. It will not direct the dark web links to any shop or portal.
Instead, you will have links that will open a new page to give you all the information you need. If you are using the dark web for the first time, then we recommend you visit this section as soon as you open The Hidden Wiki. Once you have all the information, you can take the right steps to stay anonymous and safe on the dark web.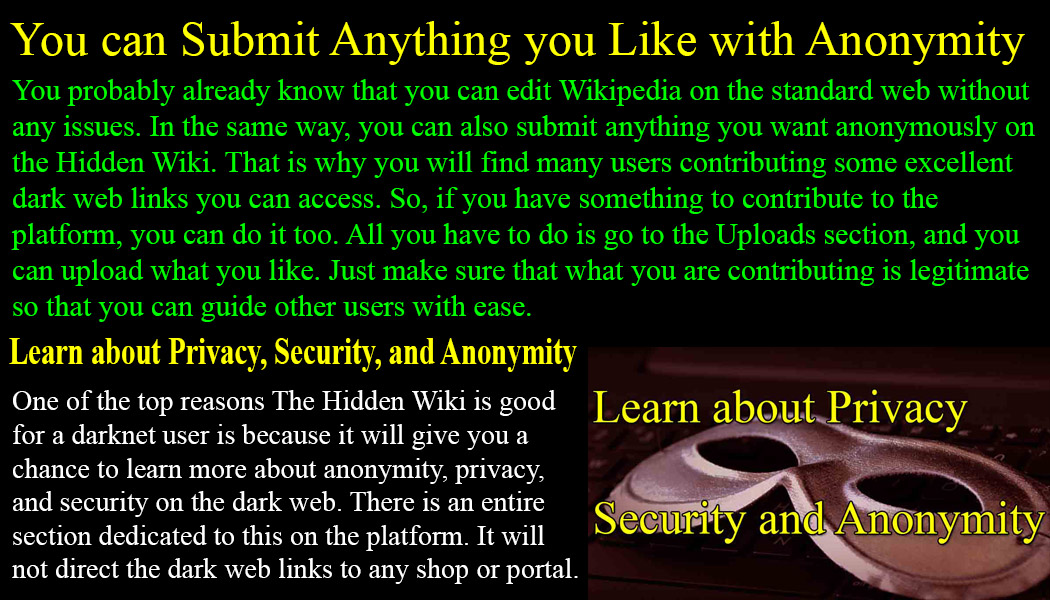 You Will Find Forums Too
You will not only find dark web links to shops, businesses, and articles. Instead, you will also find links that will lead you to forums where you can talk to other users on the dark web. These forums can offer you a wealth of information on any subject that you wish.
There are many forums that are also dedicated to illegal activities, such as exchanging stolen credit cards and much more. As you visit any forum, it is important to check what it is about. It will aid you in having a much safer experience.
The Links are Updated Regularly
A great thing about The Hidden Wiki is that it is constantly updating. Every few seconds, many people keep on adding new dark web links to the website. You can also submit some websites that you would like to contribute to this page.
If you feel like the page is refreshing too often with the new links, then you can simply change the refresh rate. Many people find it difficult to keep up with the constant updating of the directory. So, be sure to set it at your pace so that you can keep browsing with ease.
Authorities Can't Take the Site Down With Legal Means
Are you afraid that the website might be taken down someday and your contributions would be traced back to you? Let us tell you that you don't have to worry about this problem at all, and you can post as many dark web links as you like. That is because the website has no backend.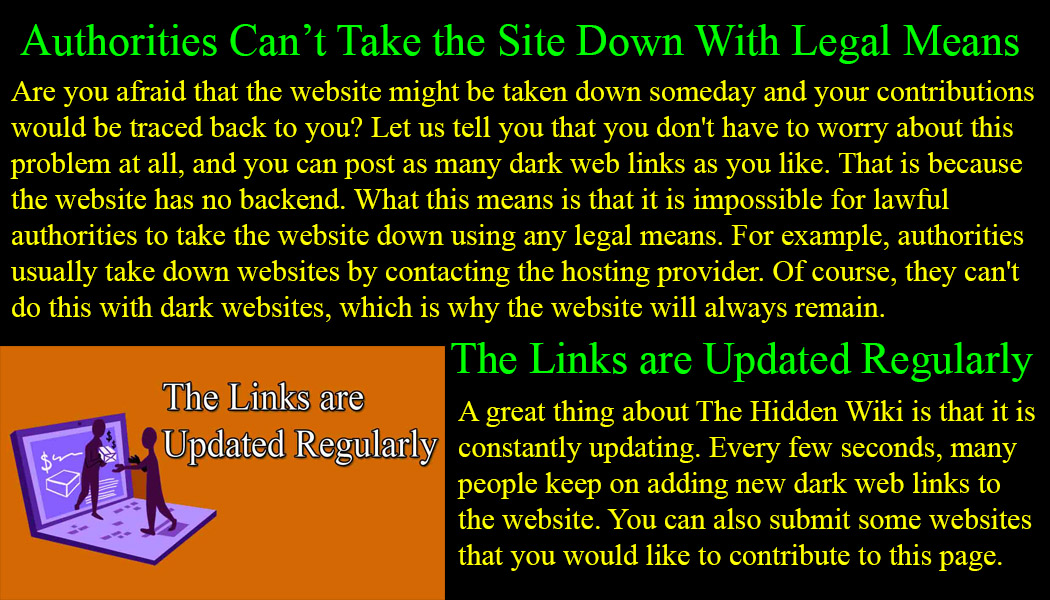 What this means is that it is impossible for lawful authorities to take the website down using any legal means. For example, authorities usually take down websites by contacting the hosting provider. Of course, they can't do this with dark websites, which is why the website will always remain.
There are no Cookies or Trackers on the Website
Any first-time user of the dark web is worried about their security and privacy. Usually, websites on the standard web have cookies and trackers that can be traced back to you and your current activity. Fortunately, this is not the case with The Hidden Wiki.
It is one of the top dark web links that doesn't use any cookies or trackers to track your activity. So, no one will be able to find or know more about your current internet activity. You can browse easily with the peace of mind that you can't be tracked here.
You can access the Hidden Wiki from Anywhere
Just like all the dark web links, you can access The Hidden Wiki from anywhere you like. The only thing that you need to have is a working Tor browser on your PC. As long as you have this browser, you can visit any dark web link, including The Hidden Wiki.
Of course, keep in mind to take all the precautions to ensure your safety no matter where you access it from. That is because keeping yourself secure is one of the most important things you can do on the dark web. You don't want anyone gaining access to what you do.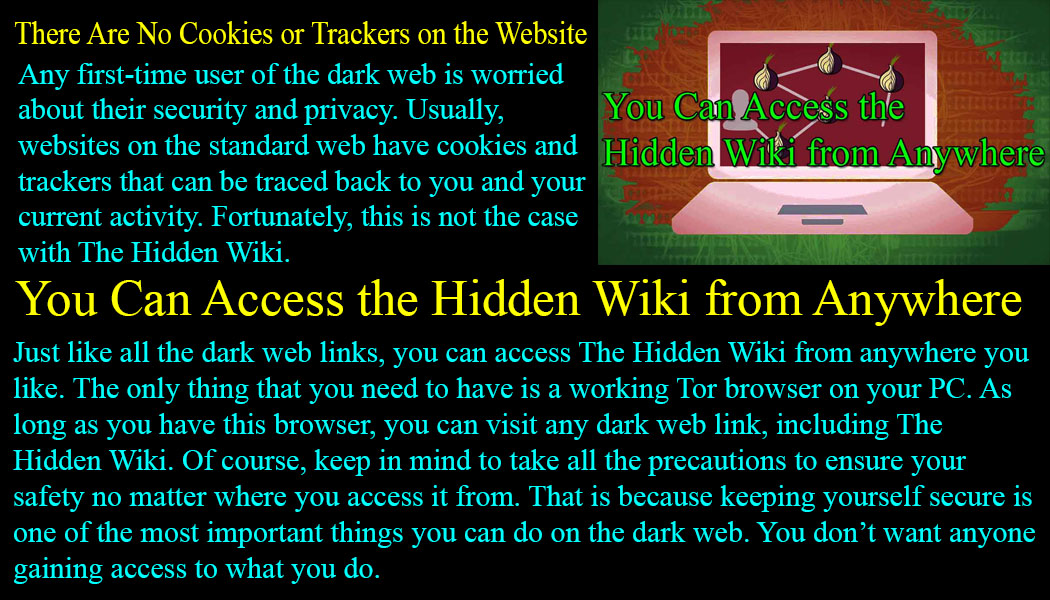 The Site Barely goes Offline
Many dark web links keep coming and going, but The Hidden Wiki has stood the test of time as an excellent directly on the dark web. Because of this, the website barely goes offline, as you will not face any downtime with it. However, if you are on the website and it goes offline, there is no need to worry about the site not going back up.
That is because you can wait a few minutes or seconds, and the website will refresh and begin working in no time. It is a standard issue that many websites can face from time to time. So, if the site goes down, just remain patient and give it a few minutes to work back again.
Final Thoughts
These are the top ten reasons why Hidden Wiki could be a great choice for the users of the dark web. It will give you an entire collection of dark web links that will be incredibly useful for you. Because of this, it should be your first stop on the dark web.
So, be sure to do research on the dark web links and find ones that will enable you to do what you like on the dark web. We recommend that you don't partake in any illegal activity. Following such guidelines will help you remain safe, no matter what.